If you are in Hertfordshire area and are looking for help, support or just to meet new people there is lots available.
Druglink is a substance misuse charity based in Hertfordshire. Their objective is to change the future for people who are, or could be, affected by substance misuse. We achieve this through Addiction Treatment, Housing Solutions, Education and Training.
Find out more here: https://www.druglink.co.uk/
THE NEST run a Men's Brotherhood Safe Sharing Circle Every Thursday evening 7.30 – 9.30.
To find out more about the group: https://www.facebook.com/TheNestWare/about
For Young men's group the YMCA offer local Hertfordshire groups:  https://oneymca.org/signpost-home-page/signpost-helping-young-people-groups/
MEN'S SHED is a space to work on projects with other individuals on solo so whether you need friendship and to chat or need peace there always something for you.
Find out more here: https://breaksmanor.org/mens-shed-hatfield/
POhWER – A Man's Mind suicide awareness podcast: https://www.pohwer.net/podcasts#SuicideAwareness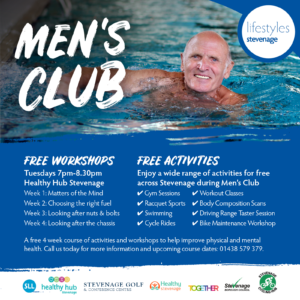 Join the Men's Club- a FREE four week course starting 23rd January at the Healthy Hub Stevenage!
How will the Men's Club help you?
Attending the course will help you to gain education and advice on;
the connection between mind, body & emotion and their impact on stress, anxiety & depression,
understand food consumption and weight management,
look at health conditions men experience as they grow older and how exercise, diet and mental health affect them
learn how correct exercises, manual handling and diet can help manage common back problems.
you will also learn basic relaxation techniques through mindfulness sessions and Chi Kung.
You will also have…
FREE use of the SLL facilities in Stevenage including gym, swimming, workout classes and driving range taster sessions
FREE Cycling with Stevenage Cycle Hub
Enquire or book your place today at www.sll.co.uk/mens-club