Stranger on the Bridge
In 2008, twenty-year-old Jonny Benjamin stood on Waterloo Bridge, about to jump. A stranger saw his distress and stopped to talk with him – a decision that saved Jonny's life.
Fast forward to 2014 and Jonny, together with Rethink Mental Illness launch a campaign with a short video clip so that Jonny could finally thank that stranger who put him on the path to recovery. More than 319 million people around the world followed the search. ITV's breakfast shows picked up the story until the stranger, whose name is Neil Laybourn, was found and – in an emotional and touching moment – the pair re-united and have remained firm friends ever since.
The Stranger on the Bridge is a memoir of the journey Jonny made both personally, and publicly to not only find the person who saved his life, but also to explore how he got to the bridge in the first place and how he continues to manage his diagnosis of schizoaffective disorder. Using extracts from diaries Jonny has been writing from the age of thirteen, this book is a deeply personal memoir with a unique insight on mental health.
Jonny was recognised for his work as an influential activist changing the culture around mental health, when he was awarded an MBE in 2017. He and Neil now work full-time together visiting schools, hospitals, prisons and workplaces to help end the stigma by talking about mental health and suicide prevention. The pair ran the London Marathon together in 2017 in aid of HeadsTogether. Following the global campaign to find the stranger, in 2015 Channel 4 made a documentary of Jonny's search which has now been shown around the world.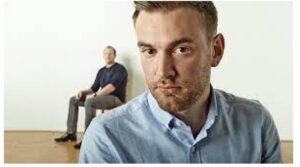 https://www.channel4.com/programmes/the-stranger-on-the-bridge/on-demand/60400-001